As a prospective juror for federal court, the trial jury process consists of three steps: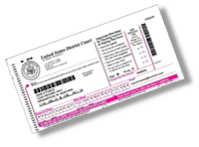 1. Juror Qualification Questionnaire (electronic completion now available through eJuror) – This questionnaire must be completed within 10 days of receipt.  You must be deemed qualified to serve as a federal court juror according to federal law; and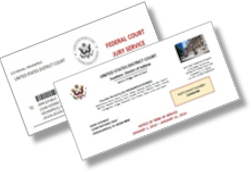 2. Notice of Term of Service – Within two years of completing a Juror Qualification Questionnaire, your name may be randomly selected for a specific one month term of service.  If so, you will receive a Notice of Term of Service letter and also a Federal Court Jury Service Questionnaire to complete and return approximately six weeks ahead of the first day of your scheduled term; and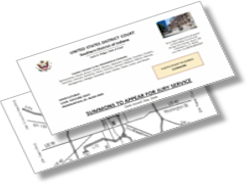 3. Summons to Appear for Jury Service - IF your appearance is necessary for jury selection, you will receive a Summons to Appear for Jury Service.  Summonses are mailed approximately 2 to 3 weeks in advance of your scheduled reporting date and provide detailed reporting instructions, directions and maps to the courthouse.
The forms itemized above will come to you by U. S. Mail.  Read the information carefully as it will answer most, if not all, questions you may have.  If you receive a phone call or an e-mail from someone claiming to be a court official, DO NOT give them your social security number or credit card information. This court will never ask for this confidential information over the phone or by e-mail.
More About the Trial Jury Process
A trial jury listens to evidence in a courtroom and determines the facts in a case. In a criminal trial, it is up to the trial jury to determine whether or not a defendant is guilty of the acts he/she has been accused of committing. Trial juries do not determine the sentence or penalty a defendant will face. The sentence is imposed by the judge. In a civil case, trial jurors determine whether the plaintiff wins the case. Trial juries consist of a minimum of 6 to 14 jurors depending on whether they serve in a civil or criminal trial.
Unfortunately, jury service never seems to come at a convenient time for most.  However, the court strives to make the trial jury process as pleasant as possible by working around your schedule.  You can help us achieve that goal by doing the following:
Reading the information mailed to you as it will answer most of your questions;
Returning the completed information within the time allotted;
Updating the court with any changes to your personal information, i.e., address, phone numbers, email, etc., through eJuror;
Updating the court with any changes to your availability after you have been notified of your one month term of service.