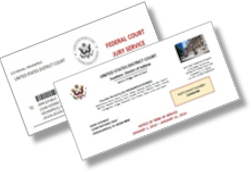 Your name has been randomly selected from the list of qualified jurors and you are being put on notice for a one month term of service, which means the court may issue a Summons to Appear with specific reporting instructions sometime during that one month term.  Read the Notice of Term of Service letter carefully as it provides the specific dates you may be called and additional information regarding federal court jury service. The Federal Court Jury Service Questionnaire enclosed with the Notice of Term of Service letter must be completed and returned within ten (10) days of receipt.  You may complete it using one of two methods:  1) you may complete it online using eJuror (you will need your unique 9-digit participant number), or 2) you may complete the paper version using the enclosed postage-paid, business reply return envelope.  Please do not do both.
Part 1 - Identification and Contact Information (bottom front)
Provide your date of birth and contact information. 
Provide your new address if you have moved where indicated. 
Provide any dates you are unavailable to serve during your one month term of service that cannot be rescheduled.  The court will honor all reasonable requests, such as doctor's appointments, prepaid travel plans, etc.  Please note when listing these dates that jury service is performed during the week and during the course of a typical business day (8:00 a.m. to 5:00 p.m.).
Part 2 - Your Background and Experience (reverse side)
Questions 25-26a – If you answered "yes" to any part of this question, please insert a statement explaining the charge, conviction, or affirmative action taken to restore your civil rights.
Question 27 - If you answered "yes" and you seek an excuse from your obligation to serve as juror please insert a letter explaining your reason(s) together with the completed questionnaire and return them in the business reply envelope provided.
Sign and date the completed questionnaire at the bottom where indicated.
More About Term of Service
Your Juror Qualification Questionnaire has been received and reviewed by the court and your name has been added to the list of those qualified to serve as a federal court juror. 
The court determines the number of jury trials expected for any given month and names are randomly drawn to fill such demand from those deemed qualified.  Notices and questionnaires are mailed approximately 6 to 8 weeks in advance of this one month term of service putting prospective jurors on notice that they MAY receive a Summons to Appear for jury selection. 
Since it may have been quite some time since the Juror Qualification Questionnaire was issued and completed (up to two years in some cases), the second questionnaire requests updated contact information in Part 1, as well as dates that you are not able to serve.  The court does its best to honor all reasonable dates such as occasional doctor appointments, vacations, etc.  Jury trials take place during the week and during the course of a typical business day (8:00 a.m. to 5:00 p.m.).  Employers are not obligated to pay you during your jury service in Indiana; however, at this step of your jury service, it is necessary for you to determine your employer's jury duty policy.
If you feel that serving as a juror would create an undue hardship on you or your family, given the information provided, you may submit a hardship request on a separate sheet of paper and return it with the questionnaire.   However, you should note that hardship requests are not processed until you are summoned to appear, as you may not be needed during your term of service.
The Notice of Term of Service letter should be retained as not only does it contain valuable information regarding your jury service, but it also contains a 9-digit participant number, which is your personal identification number to access your jury record via the court's Automated Jury Information System (AJIS).   You may access this system 24 hours a day, 7 days a week.  Simply dial 1-877-803-2073 and enter your 9-digit participant number.  You can obtain information specific to your status, reporting instructions, excuse requests, and court contact information.