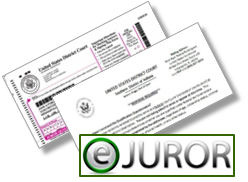 Your name has been randomly selected to possibly serve as a juror.  Therefore, you have been issued a Juror Qualification Questionnaire as well as instructions to assist you in its completion.   The Questionnaire must be completed and returned within ten (10) days of receipt, regardless of your age, citizenship status, criminal history, availability, occupation, or any other status.  However, if legitimate circumstances prohibit you from responding within the timeframe designated, please complete the Questionnaire at the earliest date possible.  It is not necessary to call the court to report a delay.  For step-by-step assistance in completing the paper Questionnaire, please click here.  Position your cursor over each question mark for helpful, pop-up instructions. Automated help is also available by calling the Juror Qualification Questionnaire Help Line at (800) 827-5879.
You may respond in one of the two ways listed below, however do not do both:
1.          Complete your Questionnaire online:
Submit your Juror Qualification Questionnaire online by clicking here.  Electronic completion is preferred by the court because it is the fastest, easiest and most secure way to respond.  By responding electronically, you will also have the ability to update contact information on your juror record should you move, change phone numbers or email, etc.
            OR:
2.         Complete the paper version of the Questionnaire and submit by U. S. Mail:
Complete each question using a No. 2 pencil (or a black ink pen). Please do not staple, paperclip, or otherwise attach anything to the Questionnaire.   The Questionnaire must also be signed and dated.  Use the enclosed postage-paid, business reply envelope to return the questionnaire.   Please do not fax copies of your Questionnaire to the court, as the court requires the original, signed and dated Questionnaire.
More About Juror Qualification
The Jury Selection and Service Act and the court's Jury Plan for the Random Selection of Jurors dictate the qualifications a person must meet to serve, as well as the process by which prospective jurors are selected for federal court.   Therefore, prior to being called for federal jury service, several thousand Juror Qualification Questionnaires are mailed every two years seeking qualified individuals.   You are not being summoned or being asked to serve as a juror at this time.
In accordance with 28 U.S.C. § 1865(b), the clerk, under the supervision of the Judges of this court, will deem any person qualified to serve on grand and petit juries in this district unless the person:
is not a citizen of the United States eighteen (18) years old who has resided for a period of one (1) year within the judicial district;
is unable to read, write, and understand the English language with a degree of proficiency sufficient to fill out satisfactorily the juror qualification form;
is unable to speak the English language;
is incapable, by reason of mental or physical infirmity, to render satisfactory jury service; or
has a charge pending against him or her for the commission of, or has been convicted in a State or Federal court of record of, a crime punishable by imprisonment for more than one (1) year and that person's civil rights have not been restored.