You have been selected to participate in the jury selection process for a jury.  If selected, the trial begins immediately following jury selection.  There are only two steps to follow once you receive a Summons to Appear.  They are: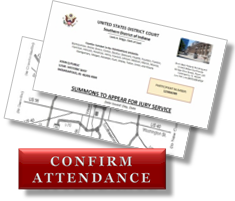 Confirm your attendance

for jury selection as it is very important that the court have enough prospective jurors to participate in the selection process.  This may be accomplished by selecting one of the two methods below - please do not do both:
Click on the red "Confirm Attendance" button (above.)   Please inform the court of any special accommodations due to hearing, visual or physical impairment that may be necessary;

OR

Call the court's Advanced Jury Information System at 1-877-803-2073 (you must use your 9-digit participant number to access your juror profile)
If you submitted a hardship request for excuse when you returned your Jury Service Questionnaire and you have not yet received a response from the court, please contact Jury Administration at this time to check on the status.
Emergency excuse requests may be faxed to Jury Administration at (317) 229-3727.
Call the night before you appear

as trial schedules often change with late notice.  It is your responsibility to call the Automated Jury Information System at 1-877-803-2073 after 6:00 p.m. the night before you are scheduled to appear to make sure your appearance is still necessary.  If you fail to complete this step and you appear when you are not needed, you will not be paid.
 
On the date you appear, you can expect to participate in the jury selection process which, in most cases, lasts only a few hours.  During the jury selection process, the judge will tell you a little about the trial and how long it is expected to last.   Most jury trials last between 3 to 5 days.  If you are selected to serve as a juror, the trial does begin on the same day unless otherwise indicated by the court.  Jury trials are conducted during the week and during the course of a typical business day (8:00 a.m. to 5:00 p.m.).  It is extremely rare for this court to sequester jurors, so you should expect to travel back and forth to the court daily unless you qualify for an overnight hotel stay (over 75 miles or more one way).  This is an optional benefit to provide convenience to our jurors and not a mandatory obligation. Click on Juror Payment on the left to learn more about this optional benefit.
Failure to Appear
Federal law, 28 U.S.C. § 1866(g), states:
Any person summoned for jury service who fails to appear as directed may be ordered by the district court to appear forthwith and show cause for failure to comply with the summons.  Any person who fails to show good cause for noncompliance with a summons may be fined not more than $1,000, imprisoned not more than three days, ordered to perform community service, or any combination thereof.